Photo by Daniel Sauvé
Photo by Daniel Sauvé
Photo by Daniel Sauvé
Photo by Daniel Sauvé
Photo by Daniel Sauvé
Photo by Daniel Sauvé
Photo by Daniel Sauvé
Photo by Daniel Sauvé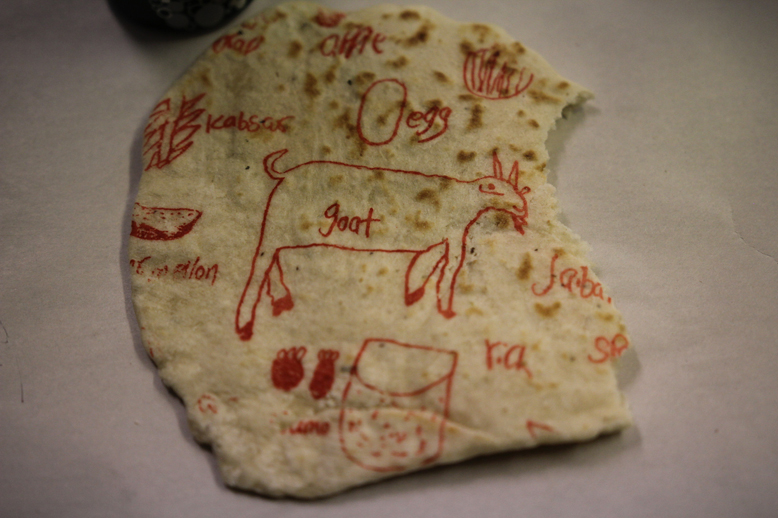 Photo by Daniel Sauvé
Photo by Daniel Sauvé
Photo by Daniel Sauvé
Photo by Daniel Sauvé
Photo by Daniel Sauvé
Photo by Daniel Sauvé
Photo by Kim Morski
FRESH BREAD: An Edible Collaboration (2016)
Images courtesy of Daniel Sauvé
FRESH BREAD: take, break, & eat is an ongoing edible, printmaking collaboration. In March 2016, I worked with artist Carmiella Salzberg, in partnership with the International CITY after-school program for refugee youth and Red Delicious Press in Aurora, CO, to do an iteration of the project connecting the voices of refugee youth in Denver to the greater community.
Salzberg and I taught screenprinting to International CITY students and worked with them to draw the ingredients of recipes from their home countries. The drawings created by participants were then screen printed with edible ink onto flatbread at a public event held at Red Delicious Press. The International CITY students also sold their own limited edition screen prints to raise money for the International CITY after-school program and Red Delicious Press.
Bread is an essential, base food, recognized and enjoyed by cultures in various forms all over the world. It is also a historically meaningful symbol of sustenance, family, home, covenant, and community. In sharing the bread, we are reminded of the beauty in our diversity and our commonality.
The International CITY after-school program is run through the refugee resettlement agency, the African Community Center. Learn more at www.acc-den.org
Red Delicious Press is a cooperative fine art printmaking facility in Aurora, CO, committed to making printmaking accessible to the community. Learn more at www.reddeliciouspress.com
This project was organized with the help of artist Carmiella Salzberg. Learn about her work at www.carmiella.com .